"We could do so much better". From our experience, if this is how you perceive your IT Service Desk, then you are not alone. So, the purpose of this guide is simple: to help you unpack that dissatisfaction; to pinpoint how and where concrete improvements can be made – and to bring about positive change.
Part 1. The Why? Establishing the Business Case for Optimising Your Service Desk Function
Part 2: How do you know you are running an optimal service desk?
Part 3: Common Bottlenecks and How to Prioritise Your Fixes
Part 4: Optimisation in Action: What We Found at the Law Firm…
Part 5: A glimpse of the future: emerging trends to further boost performance
What we will cover…
Making the business case for Service Desk optimisation is the first step. After all, where resources and time are limited – and with competing claims for your time and attention coming in from other areas of the business, what makes this area a priority?
Next, you need to define best performance, examining how your organisation measures up by identifying areas of inefficiency. We'll help you with all of this, together with a closer look at some common problem areas and how to address them. We give a real-life illustration of how Service Desk optimisation makes a positive difference – and outline the trends to watch to further boost performance.
Part 1. The Why? Establishing the Business Case for Optimising Your Service Desk Function
The topline purpose of your IT Service Desk is to enhance your organisation's ability to meet its goals. It helps ensure that employees are able to fulfil their roles; it enables your organisation to run better – and, ultimately, it increases the profitability of the business.
Service Desk optimisation should never be about change for change's sake. For any proposed change, the question should be asked, "Will the proposed change actively improve the Desk's ability to support the wider objectives of the business?"
Practical Benefits for Your Business
Drilling down further, here are some of the key areas where optimising your Service Desk functions can reap benefits for your entire business:
Shorter incident resolution times. Solving incidents and requests with minimal delay, thereby reducing the business impact of incidents and keeping everyone as productive as possible.
Improved efficiency and reduced operational costs. With streamlined workflows and increased automation in areas such as communication and task allocation, you can substantially reduce the need for manual input. This allows you to do more with less – freeing up IT resources for more profitable uses.
Self-service efficiencies. Optimisation often involves enabling users to help themselves (through self-help portals, for instance). This can improve employee satisfaction by enabling employees to get to the solutions they need more quickly. Fewer calls to the Service Desk further adds to potential labour savings, while reducing the burden on staff.
Expectation management and value for money. Targeted improvements to Help Desk functionality can help maximise the likelihood that incidents are dealt with in accordance with service level agreements. It also increases your ability to deliver against user expectations.
Move from Reactive to Proactive. Improvements should focus on the reactive elements of your Service Desk's work – i.e. responding to incidents in a consistent, effective and timely fashion. At the same time, by introducing new reporting and analytical capabilities, you become better able to discover the root cause of incidents, find patterns and spot trends. You become better equipped to "learn" from the data, gain a more thorough understanding of business requirements and implement better-fitting IT services.

If you feel unsure about what capabilities of your Service Desk need further optimisation, our newest Service Desk diagnostic tool can provide you with a complete report highlighting the strengths and weaknesses of your Service Desk. Take the test now!
By answering 20 questions you will be able to diagnose your organisation's Service Desk and assess its strengths and weaknesses. You'll then immediately be able to access a tailored report that ranks its performance across different areas and provides an indication of how your Service Desk overall.

Part 2: How do you know you are running an optimal service desk?
Set minimum standards
You need to define and document what 'normal' looks like. In connection with this, and where possible, your Service Desk needs to establish and maintain minimum standards for service qualification. This should help you to standardise regarding the hardware, operating systems, apps and services in play within the organisation.
This approach should also help to set clearer working parameters for the Service Desk. Particularly, it helps you define what's needed from Service Desk staff in terms of gaining and maintaining proficiencies, skill sets and certifications on a controlled number of supported items, rather than a sprawling and ever-changing variety of systems. The benefits of this approach include the following:
– More efficient incident resolution.
– Easier infrastructure setup.
– You become better equipped to standardise your performance metrics and reporting.
– Speedier onboarding of end users.
– Faster training and knowledge transfer between new and existing Service Desk staff.
Metrics to track
The use of metrics to define and improve on baseline performance is a key method for obtaining optimal performance from your Service Desk teams. As a rule, each metric you use should be meaningful and accurate. Precisely what you need to track will depend to some extent on your organisation-specific priorities, the characteristics of the IT estate and the needs of users. That said, the following metrics are almost always ones to focus on:
Cost per Ticket. Calculated by dividing the monthly operating expense of the Service Desk by the monthly ticket volume. A rising CPT month-by-month can be an indicator of inefficiency (it may be a sign that you are paying for a level of support that exceeds your requirements).
Customer Satisfaction. Your foundational measure for gauging quality of service. A popular and effective way to measure it involves asking customers to complete a follow-up survey on ticket conclusion. Areas to cover in this questionnaire include quality of outcome, speed of response, communication and ease of accessing the service.
First Contact Resolution. This refers to the proportion of incidents resolved on the foot of customers' initial Service Desk contact. A high FCR rate is generally a strong indicator that Service Desk staff have the knowledge and communication skills to steer through problems efficiently.
Service Desk Resolution. The proportion of incidents resolved by the Desk without the need for escalation.
Service Desk Analyst utilisation. The average time a Service Desk analyst or technician spends directly on requests and incident response in any given timeframe, divided by total hours worked in that period. If a low utilisation rate is accompanied by a high or rising cost per ticket, it is a sign that the department's resources are being inefficiently deployed.
Mean Time to Resolve. The time that elapses between opening and total resolution of a ticket
Analyst Job Satisfaction. Important – and yet easily overlooked. High levels of engagement tend to correlate with improved commitment, lower churn rates and better outcomes both in terms of value and user satisfaction.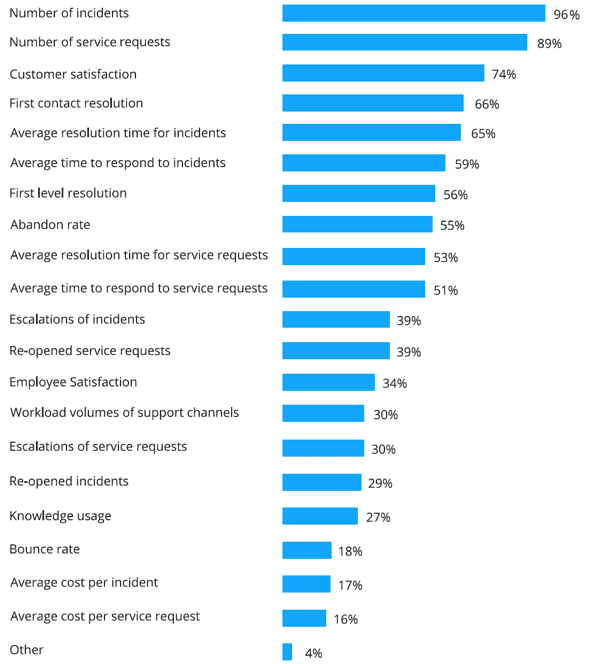 (The SDI Global Best Practice standard specifies 39 different metrics that a service desk should measure, monitor, and report on; this question contains 20 examples from the standards.)
If you would like to know more about what metrics your service desk should be measuring, feel free to read our article: "Which metrics should your IT Service Desk be measuring?".
Part 3: How to Prioritise Your Fixes and address Common Bottlenecks
Problem 1: An absence of structure
A user contacts the Service Desk with an issue. A ticket is opened. It is escalated and resolved. All of this is achieved on an ad-hoc basis. At first glance, it looks as if the system is working (albeit haphazardly). But without a consistent and predictable workflow, it becomes a lot harder to measure whether your IT Service Desk is performing at its best – and what can be improved.
The solution:
You need to deploy a comprehensive service management solution: one that enables you to define a formal workflow into which all new tickets are fed. This ensures all tickets are handled in a consistent manner with set parameters to govern when and how to escalate.
Problem 2: Not being able to put specific procedures to the test
Is our first response resolution strategy for a particular type of issue working as speedily as we would like? Are we escalating to the right technicians and under the right circumstances?
The solution:
Your IT Service Desk requires detailed reporting capabilities that provide intelligence on matters such as which type of escalation procedures are resulting in the quickest resolutions and which ones are having the most desirable impact on system performance and uptime. These capabilities make you much better able to create a set of best practices and minimum standards (see above).
Problem 3: Reviewing the efficiency of your Service Desk staff
To track the Service Desk Analyst Utilisation metric, you ask how long staff are spending on each task. You have your doubts about the reliability of these rough and ready estimates.
The solution:
Equipped with end to end tracking through structured processes and toolset optimisation of the amount of time spent on each incident, you get a much more accurate picture of analyst utilisation. This gives you the ability to take action where required – e.g. reviewing task allocation if technicians are 'idle' for long periods – or stepping in to provide extra training and guidance if too much time is being spent on particular tasks.
Problem 4: Too much time is spent on routine tasks
A high first contact resolution rate is usually a positive indicator – the same goes for the Service Desk resolution metric. That said, if a huge chunk of Service Desk resources is currently devoted to minor issues, it may mean that those highly specialist resources are not being utilised to their fullest potential.
The solution:
Self-help features can help significantly reduce the amount of time spent on routine matters. This may include setting up a knowledge base to allow users to correct simple, commonly-occurring issues themselves. Self-help can also extend to communications; for instance, with a platform that allows users to track the progress of tickets online, thereby removing the need for users to contact the Desk for updates.
Problem 5: An inability to track trends
Your Service Desk handles large volumes of tickets relating to a wide range of systems, devices and applications. This potentially offers highly useful data on the history of your assets, such as failure rates and commonly-occurring glitches. At present though, you are struggling to bring all of this data together to make sense of it.
The solution:
If you unify your Service Desk solution with your IT asset management environment, you are better able to maintain a complete history of all issues affecting each component of your IT infrastructure. This enables you to make much more informed decisions on such matters as replacements and upgrades.
Problem 6: Communication Silos
To cater for a range of preferences, you offer various ways for users to make contact with the Service Desk (e.g. email, phone and web portal). The flipside is your inability to unify all of this information in order to comprehensively track performance.
The solution:
You need an IT Service Desk solution that cohesively organises information received across multiple channels. This should make it easier to measure, document and control your processes and procedures.
How to prioritise your fixes
Rarely is it the case that a Service Desk requires improvement in a single, isolated area. Much more commonly, organisations find themselves facing issues in some or all of the areas detailed above. If this is the case, you need to decide what changes to make – and what areas to focus on as a priority. For this, we suggest the following methodology:
Identify the opportunities for improvement – with particular reference to the metrics detailed in Part 2 above.
Quantify the potential beneficial impact of making improvements in that area. For this, always link it back to the business case for change (i.e. by asking whether and to what extent making the changes is likely to support the wider objectives of the business.
Estimate the required cost and effort of the proposed changes and carry out a cost/benefit analysis.
Develop an action plan for improvement.
Confirm the outcome of the changes you have made empirically.
Part 4: Optimisation in Action: What We Found at the Law Firm…
From identifying opportunities for improvement, right through to tracking the success of the changes you have made, expert input is essential.
To understand the real-life benefits that optimisation can bring, our work with leading UK insurance and risk law specialist BLM provides a useful illustration.
The issue
During Acora's Service Review, one of the main findings was BLM's struggle to access meaningful management reporting. The law firm was being held back by its incumbent toolset technology and a lack of formal process. In addition, its IT Service Desk has organically evolved with the business, meaning the capacity and structure were becoming stretched and was beginning to affect the overall perception of IT.
To find out how Acora successfully transformed A Top 100 Law Firm IT Service Desk into an efficient peak performing and SLA-driven IT Service Desk with "unprecedented levels of Service Desk Resolution" click here.
Part 5: A glimpse of the future: emerging trends to further boost performance
One of the key aims of optimisation should be to make that shift away from purely reactive IT support and towards a much more proactive approach. Spotting patterns, informing your wider transformation strategy, making better use of your resources: these are all areas to focus on.
With this in mind, it's worth keeping a close eye on the type of developments that look set to improve Service Desk performance even further. Ones to watch include the following:
AI-enabled capabilities
Artificial intelligence and machine learning offers a way to handle easily repeatable tasks in a more efficient way. Examples include use of chatbox technology to enable users to quickly find fixes to commonly occurring problems. Likewise, an AI-driven escalation procedure can support better Service Level Agreement compliance by ensuring that matters are escalated consistently, with direct reference to the SLA terms.
Big Data Analytics
This refers to the ability to capture, interrogate and find hidden value from data from across your IT estate. This can enable you to deliver a more efficient service and better address the needs of users.
Examples include smart news and notifications: the ability of IT to proactively notify users about potential issues based on their usage habits and history – and on previous requests for assistance they have made. Likewise, 'smart search' technologies can be used, both for enabling users to obtain information on commonly occurring issues – and for ensuring technicians can get to the information they need as swiftly as possible.
Focusing on Your People
The global shortfall in IT talent does not show any signs of abating. The 'model' Service Desk analyst is someone who successfully combines up-to-date technical knowledge with customer empathy and service skills. Increasingly, individuals who tick all of these boxes are likely to be in very high demand.
If they are serious about Service Desk recruitment and retention, organisations will need to prioritise making improvements in processes so that highly qualified technicians are not routinely grappling with mountains of routine tasks and an ever-growing workload. Outdated, manual processes do little to encourage engagement – and even less to make your organisation stand out as an attractive career destination.
With routine workloads reduced, it gives you scope to recruit and train your people with an eye on what's really important: not just 'pure' technical skills, but also customer facing abilities and team-working ability. If your team is more agile in its outlook (especially when it comes to problem solving), you are likely to be better equipped to face future challenges.
In order to help companies to address these issues, we now offer a flexible support model that combines the control and stability of permanent staff with the flexibility of contractors, with the added features of a complete end-to-end service.